The project "iINTERACT - Study of Eye Tracking Technologies and Its Applications" won the Merit Award at the "Macau Information and Communication Technology Awards (MICTA) 2012" and also won the Merit Award of tertiary student category at the "Asia Pacific ICT Alliance (APICTA) Awards 2012".
The project is a video-based Eye-tracking system that monitors and captures the details of the fast movement of subject's pupil. The system employs an inexpensive solution by using conventional digital video camera to keep track of eye's movement and deal with human-computer interaction. It allows users to play computer games, input text and draw pictures with eye control instead of keyboard and mouse. In addition, the gaze motion can be analyzed and displayed in the forms of gaze plot and heat map. The system can benefit not only the disabled people for communication with eyes, but also for professional investigations and system developments.
The MICTA 2012 was held in September 2012. The objective is to provide recognition to outstanding achievements of individuals, students, entrepreneurs and organizations with operations in Macau who have contributed in building applications and services for the benefit of Macau. It recognizes creativity, innovation, and excellence in Macau ICT. This annual Awards program also provides an opportunity and an ideal environment for individuals and companies to gain local, regional and international exposure. Awardees of MICTA represent Macau at the annual International APICTA Awards.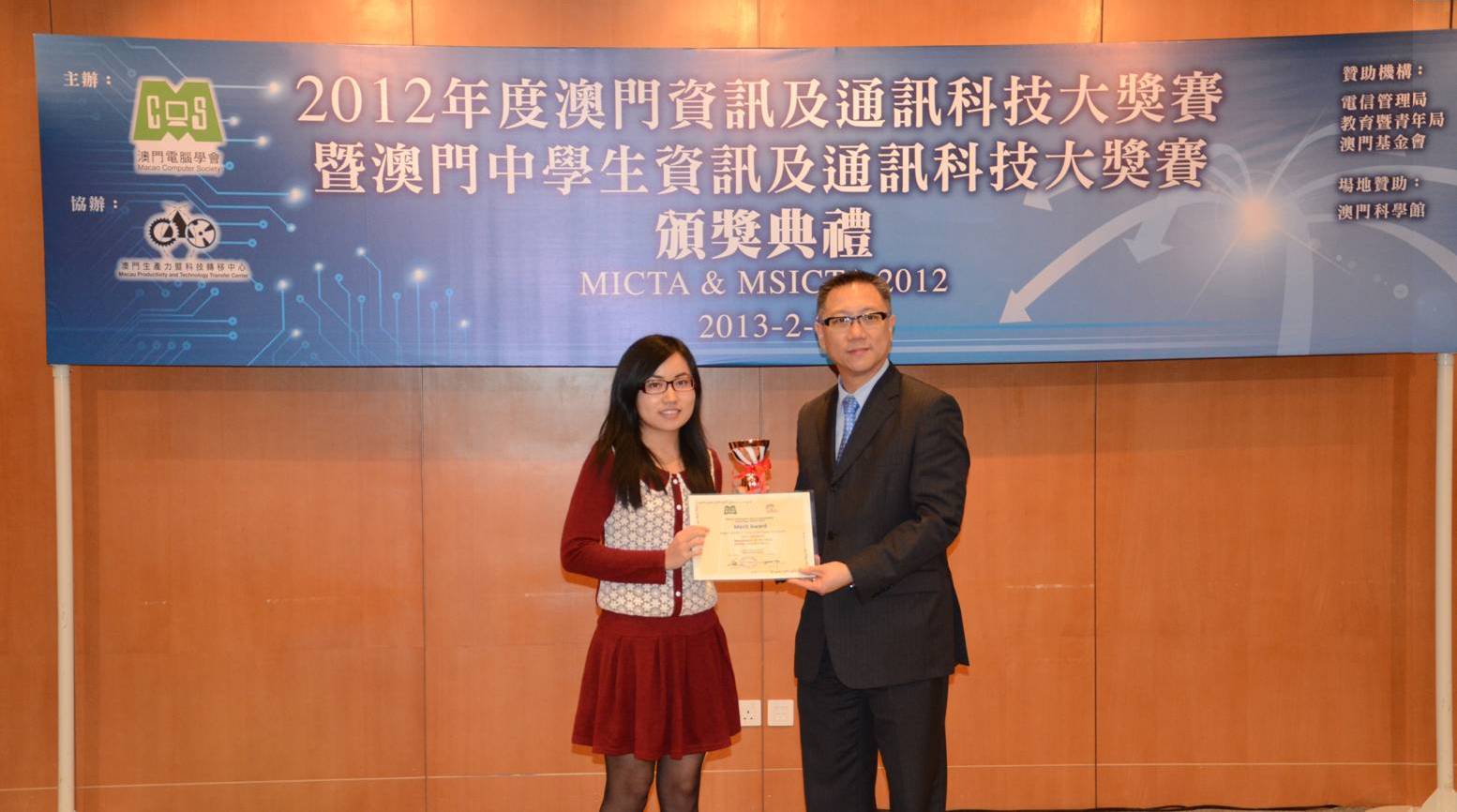 Mr. Tou Veng Keong (right), Director of Bureau of Telecommunications Regulation (DSRT), Macau SAR presented prizes
The APICTA Awards 2012 was held at Brunei Darussalam, on December 3rd to December 5th, 2012. There are 156 nominations from 16 countries around the Asia Pacific competed in over 17 different categories, involving startups, academics, and corporations. APICTA provides opportunities to showcase innovation, creativity, and excellence in ICT, assist in bridging the digital divide, promote economic and trade relations, facilitate technology transfer, and offer business matching opportunities via exposure to venture capitalists and investors.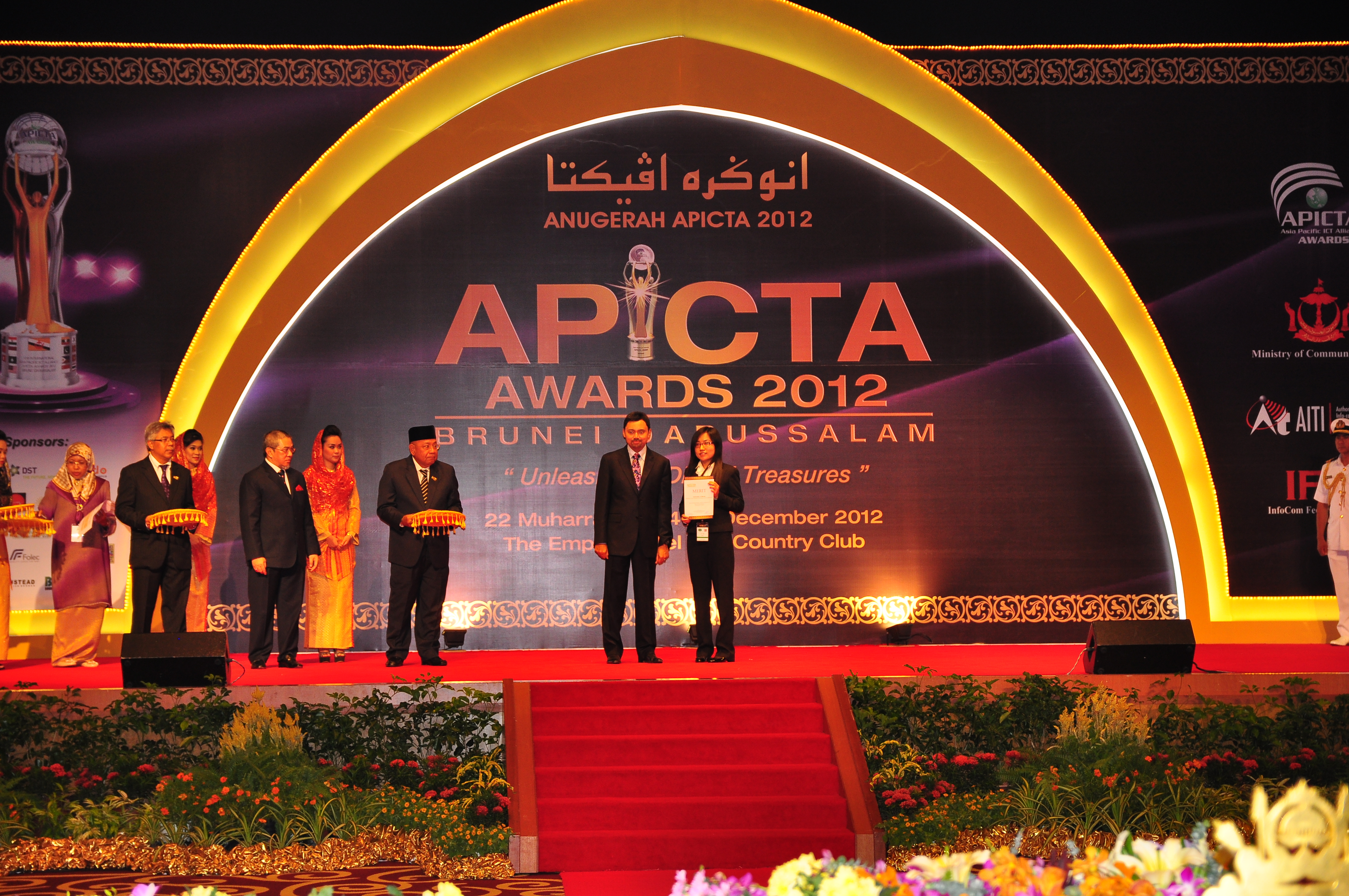 Prince Haji Al-Muhtadee Billah (left), the Crown Prince of Brunei Darussalam presented prizes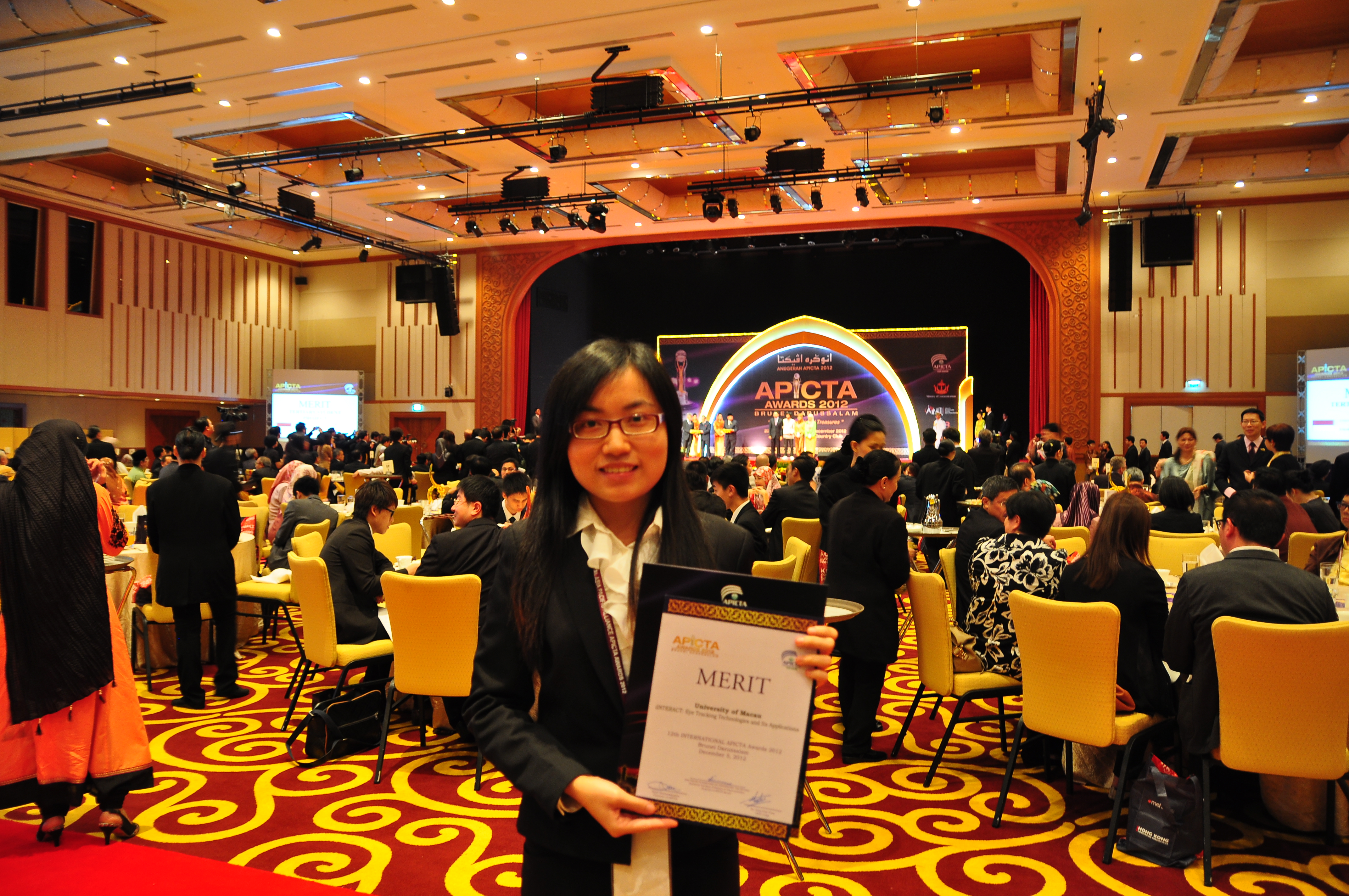 Wendy, Lei I Kei received the Merit Award at the gala dinner award ceremony
** More information about MICTA 2012 and APICTA 2012 can be obtained at:
TDM TV NEWS: http://new.tdm.com.mo/c_news/tv_news.php?id=172635

Related news was previously reported by Hou Kong Daily, Macau Daily News and Jornal Va Kio.